Just under an hour's journey from Kyoto city center you'll find the green oasis satoyama.
The gateway to the wilderness of Kyoto
Since the Heian era (794~1185 AD), Keihoku has been home to a thriving forestry industry. Even today the locals' way of life is support- ed by the bounty of mountains. Here it's possible to glimpse scenery unchanged since olden times. It's still a place where foresters, farmers and devoted craftspeople support the traditional lifestyle and customs in harmony with nature.
In Keihoku nature is an integral part of daily life. While there are many people who have inherited this way of living and the local wisdom that comes with it, the realities of modern life; changes to the local industries; decreasing population; as well as an aging population pose an existential threat to this culture.
Here we are spreading our roots, making use of the local resources to create, grow and promote local businesses & tourism to share Keihoku with the world. Our goal is to grow together with the local communi- ty of businesses and creators.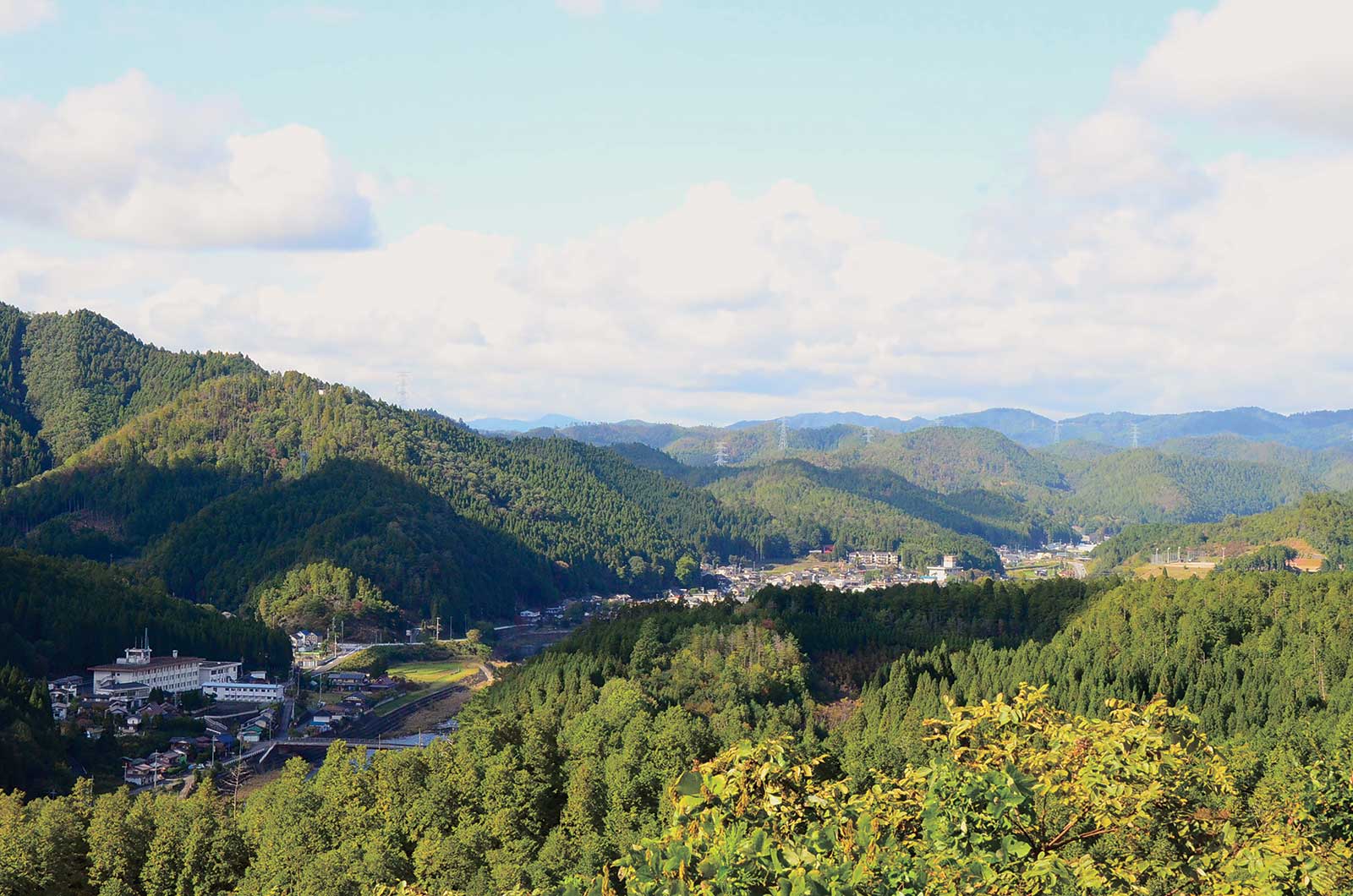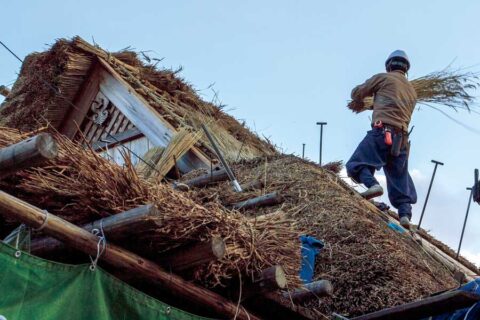 Traditions, folklore & skills
In the satoyama, there lies a wealth of knowl- edge about how we can live and work sustain- ably while protecting the natural environment. This wide-ranging wisdom which makes use of natural materials can give us some ideas about how to pass on a more sustainable society to the next generation.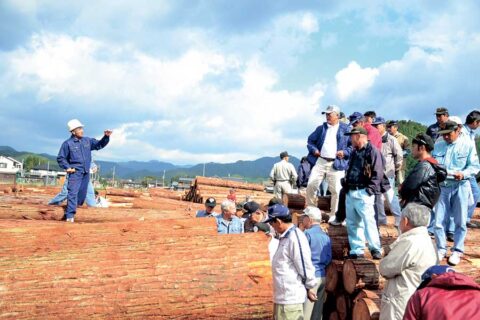 Local Industry
93% of the region is covered in forest. In the old days timber would have been floated down the river to the city. Keihoku also supplied Kyoto with both raw materials and food. From sowing seeds, planting forests and cutting branches to shipping out the timber – behind the long history of this industry is a wealth of knowledge and skills that produces superior quality lumber, mainly cedar and cypress.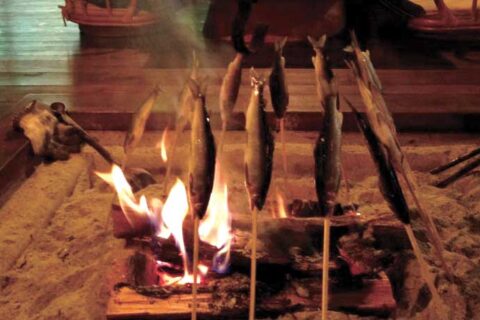 Life Wisdom
Keihoku has a rich food culture based around seasonal ingredients. In Spring you'll find tender wild plants, in Summer there are river fish. In Autumn there are chestnuts and persim- mon and in Winter there's boar meat and salted or fermented foods. Experience the culinary wisdom that is part of daily life.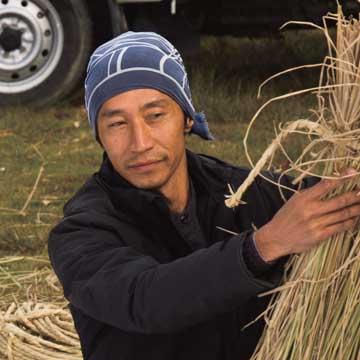 Kayabuki thatch roof expertIkuya Sagara
Specializing in re-thatching and repairing traditional thatched roofs called kayabuki, Ikuya has worked on everything from country houses to cultural heritage buildings. He also organizes international events about thatching.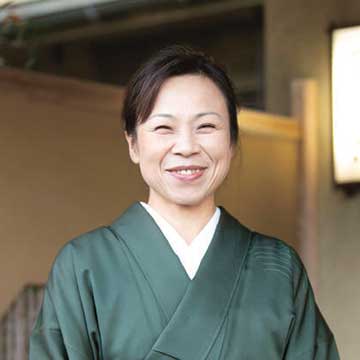 Owner of SushiyoneShuko Kurokawa
Shuko is the owner of Sushiyone, a generations old Gastro-ryokan in Shuzan Keihoku. Highly knowledgeable about traditional Japanese living, she teaches kimono dressing and tea ceremony.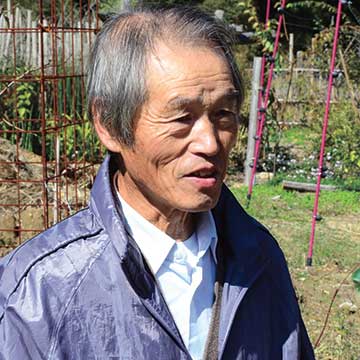 Local life and traditions expertShigeri Kawarabayashi
Owner of a 650 year-old kayabuki thatched house. A fountain of information in regards to local traditions, food, lifestyle and culture.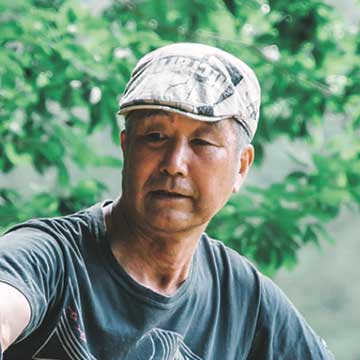 AdventurerMasakazu Asanome
An adventurer who turns his hand to everything from wood craft and herb dyeing to running an outdoor adventure school and mountain guiding.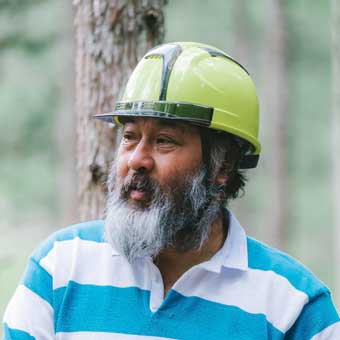 ForesterMamoru Tonoshita
In addition to his day job as a forester in Keihoku and Kyoto, Mamoru promotes the forests in variety of ways including running classes about lumberjack skills and forestry experience courses.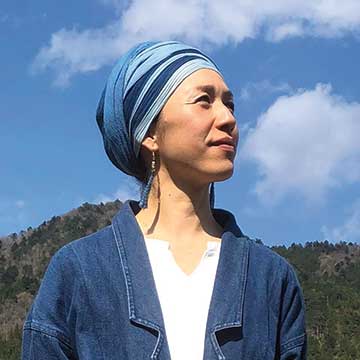 Ai-zome ArtistNaoko Omae
With a background in painting and woodblocks, Naoko turned her attention to the art of dyeing and studied it in depth in the USA. After returning to Japan she studied under the master Hiroyuki Shindo of The Little Indigo Museum.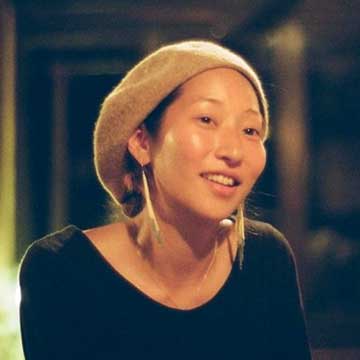 CookRaica Toyama
Raica moved from Tokyo with her family to live in a country house in Keihoku. She loves to make original dishes using seasonal, local produce. Her cooking incorporates fermented food which is kind to the body.